Custom Jewellery
---
Bespoke jewellery, created just for you
"One of the greatest pleasures in my job is creating one of a kind custom jewellery pieces for my clients."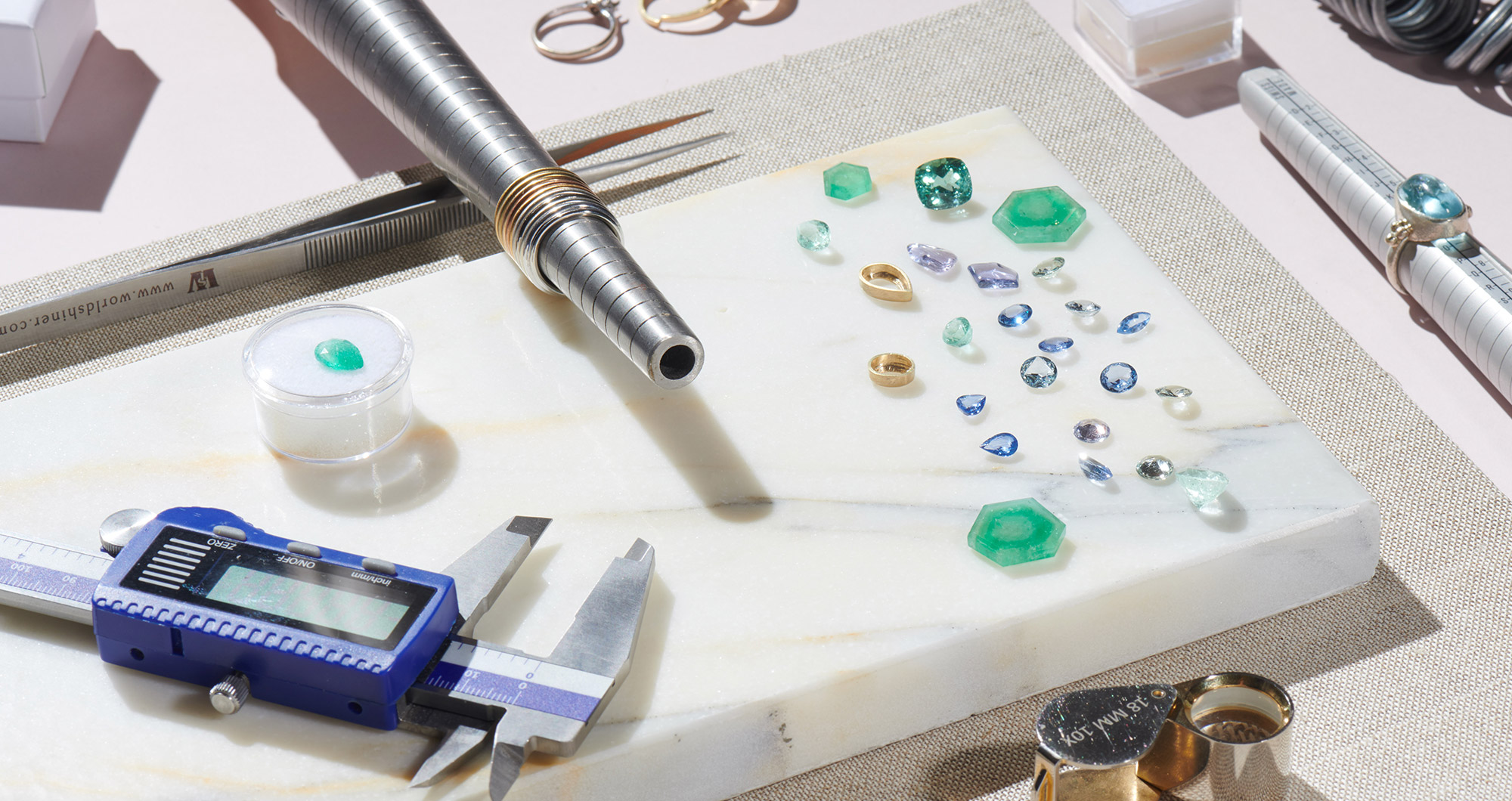 Jewellery is so incredibly personal. Nothing else brings relevance and meaning to our lives like lovingly created custom jewellery, to celebrate those special moments. To design and create unique jewellery that really means something, India believes that you first need to connect with the wearer on a personal level. Only then can you truly understand their expectations of the final piece.
One to one collaborative consultation is the catalyst for India's entire creative process. Every client has a dream and India's talent is in ensuring that their dream, and their lifestyle, are both encapsulated in the unique jewellery she designs and makes for them.
"Finding the stones and creating a contemporary jewellery design that will suit their dream and lifestyle. It's a collaborative process, working together, creating a very special piece of unique jewellery to be passed on to the next generation, which by then will hold precious memories of life and love."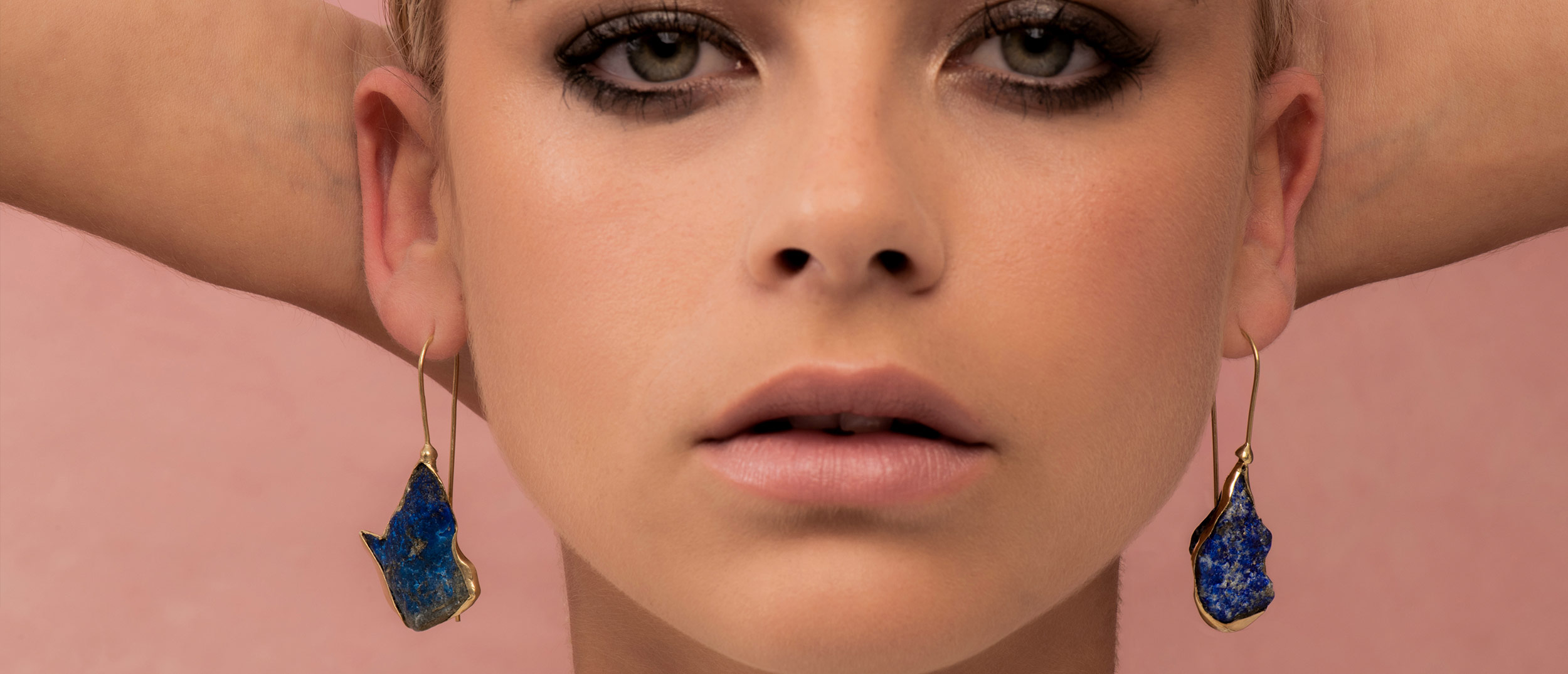 India is sometimes asked to remodel a piece of jewellery that is a family heirloom, such as a diamond ring, earrings, necklace, bracelet or even a diamond tiara. Whilst the piece is highly treasured, the style is sadly out of date. Rather than banishing these priceless pieces to life in a jewellery box, India breathes new life into old stones and recycles the precious metals into something unique, elegant and highly contemporary that are wearable, every single day.
The journey from concept to completion is as relaxed as you want it to be and can take between three to twelve weeks. India generally requires a minimum of four weeks from initial consultation and briefing to the presentation and fitting of the final custom jewellery. Whether you have a strong vision for a new jewellery design, or would place the concept and design entirely to India, you are invited to be as involved to whatever extent you wish.
Request a Consultation
Visit the India Mahon Boutique store in Harrogate or call her on +44(0) 1423 521161 for a custom jewellery consultation. Alternatively, fill in the form below and we will get in contact shortly.
Pendant
London Blue Topaz
A statement London Blue Topaz 20cts octogan pendant, set into an angular rubover setting in recycled 18ct yellow gold, it's stylised connector means it can slide onto my client's favourite gold torque, or her mum's strand of creamy vintage pearls.
Necklace
London Blue Topaz (Pearls)
We had re-strung the pearls into a simple choker using the gold from the original clasp to create a new contemporary clasp.
Ring
Baroque Pearl Ring
I designed and made this baroque pearl statement ring, set into 18ct recycled gold.
Ring
Emerald & Ruby Heirloom Gold Rings
I set the client's emerald and ruby into simple rub over bezels from her own heirloom gold., so they would stack. The colours are wonderful!
Earrings
Moroccan Hoops
I designed and made these statement "Moroccan" style hoops, mixing the client's old rose gold with new SMO rose gold, matching her amethyst pears to 4 sparkly tanzanite pears and scattered 8 romantic old cut white diamonds into the mix.
Ring
Amethyst Heirloom Gold Ring
I set the client's checkerboard amethyst into a simple rub over bezel from her own heirloom gold.
Ring
5 Ring Stack
I designed and made this colourful stack of 5 gold rings using old gold, gemstones and diamonds recycled from my client's heirloom jewellery.
The ring stack includes beautiful dark old cut sapphires and diamonds from her grandmother's engagement ring, a Sri Lankan sapphire, tanzanite, emerald pear and more diamonds.
Necklace
Peridot Necklace
I designed and made this simple understated necklace for my client's daughter's birthday, using her old cut peridot (such a deep and colourful gem) and 3 old cut diamonds, taken from her jewellery "hord".
Ring
Helena Lost Treasure
This ring was commissioned as part of Martin House (charity) Glitter Ball auction, held online during 2020. The client chose my Helena style ring in SMO gold, as she wanted something that looked like "lost treasure" with a rhodolite tourmaline cabochon.
Ring
Colette Green Tourmaline
I designed and made this Colette ring, with a large grassy green oval tourmaline, set into SMO gold.
Ring
Aquamarine Ring
Using my client's own aquamarine , I created a very simple understated contemporary claw set ring in 18ct white gold with almost no metal visible, just the mesmerising aquamarine.
Ring
Brazilian Amethyst Ring
This ring was made using the gold from my client's mum and grandmother's 22ct wedding bands, mixed adding in a small amount of 18ct SMO gold and reformed into a new statement ring..
The large oval Brazilian amethyst and tanzanite ovals were taken from my client's heirloom jewellery she no longer wore.
Necklace
Bespoke Chloe Necklace
A specially commissioned Chloe necklace, with a fabulous firey Columbian emerald, rub set into SMO gold, in celebration of a very special May birthday.
Ring
Colette Muzo
Native cut Muzo emerald in a very simple understated Colette ring. The Colette design allows light to flood through the gemstone.
Necklace
Precious Multi Stone Pendant
A precious multi stone pendant celebrating 3 special people in her life, including a large exquisite marine blue tanzanite, smaller tanzanite, aquamarine, 2 old cut diamonds and a pearl (hidden) in the clasp.
You cant see the unique galleried setting holding the stones, with a solid rub set frame around the stones for security, I added an open gallery setting made of connector oval shapes to allow light to flood the the stones.
Made in recycled gold.
Ring
London Blue Topaz Ring
A statement London Blue Topaz 12cts cushion cut ring in 14ct recycled gold, simple understated and bursting with depth and colour.
Ring
Diamond & Tourmaline
Using 6 new old cut diamonds and a seafoam tourmaline cushion I designed and made a ring to celebrate my client's wedding anniversary.
'India has a passion & flair for creating a unique piece for you that will make your soul sing!'
Bangle
Diamond & Sapphire Bangle
Small diamonds and sapphires taken from various pieces of jewellery and re-fashioned into a silver and gold bangle
Ring
Greek Style Band
I took 20 small rubies from an antique engagement ring and designed a contemporary Greek style ring band setting the rubies around the wreath.
Ring
Contemporary
Contemporary ring to replace an outdated engagement ring, the centre is a rich gold coloured tourmaline cabochon with 2 silver rose cut diamonds, rub set into 18ct yellow gold, textured, hammered and polished so it looks like it's 'discovered' treasure.
Ring
Spirit Ring
My client wanted a large statement ring she could wear every day, to show off diamonds that had enormous sentimental value, the diamonds from her eternity ring were bead set into this large circle ring, we call Spirit ring.
Ring
2ct Old Cut Diamond
2ct old cut diamond, re-modelled into contemporary rub set ring in 18ct yellow gold
Ring
Rubies & Diamonds
The client wanted a stack of easy to wear rings, she could wear one diamond ring or all 5 of the rings together.
The small "transition cut" diamonds look so much bigger and whiter in their little gold rub set collet.
Ring
Seafoam Green Tourmaline
Seafoam green tourmaline ring
This ring was designed around a tourmaline cushion chosen by my client, rub set in 22ct gold re-worked from her heirloom wedding band.
Ring
Sapphire & Diamond
Sapphire and diamond ring
My client wanted a contemporary ring she could wear everyday, for every occasion, including 4 diamonds taken from an heirloom eternity ring. I designed and made this ring around a cornflower blue sapphire chosen by my client rub set in 18ct white gold.
Earrings
Diamond & Ruby Halo Hoop
Diamond and ruby halo hoop earrings
I designed the interlocking hoop style earrings to wear with a ruby and diamond necklace.  I designed the size and weight of the main hoop to hang straight in her lobes.
The rubies were set in 4 claw settings, surrounded by bead set graduated diamonds
Ring
Eternity Ring
Eternity ring grain set with 18 brilliant cut diamonds of various sizes, 18ct rose gold
Designed around diamonds taken from the client's heritage jewellery
Ring
Crown Rings
I had great fun with the client designing and making this amazing ring stack with 28 diamonds taken from her engagement, wedding and eternity rings, to create a statement stack of modern diamond rings.
"I love them…. truly stunning piece …. that shows your quality of craftsmanship and design prowess, thank you"
Ring
Helena Diamond Rings
The client was to create something unique, elegant and very simple that she could wear all day, everyday, from her family heirloom diamonds.
Every one of the 11 diamond in this stack are a different size and shape, some date back to the Georgian/early Victorian era, and have themselves been remodelled into all nature of brooches, and rings over time.
I designed and made a very simple organic ring stack in 18ct yellow gold, with various widths of ring, each one hand textured and hammered to create a modern treasure.  
Ring
Emerald ring
"India designed and made a surprise engagement ring for my fiancee.  I had never bought much "serious" jewellery before, I met with India and discussed my requirements and budget.  She made the whole process enjoyable, easy and answered all my questions patiently and knowledgeably.  Initially India showed me a couple of emeralds and some drawings.  She answered my brief perfectly, and she sent me a serious of photos at each stage of the making of the ring.  I popped the question just before Christmas and she said Yes and she adored the ring."
Ring
Emerald
"I have bought many pieces from India's shop, I love her unique style and attention to detail.  On one of my visits – where we drink coffee and gossip – I spied a beautiful pale green emerald cushion on her desk, so we set about designing a ring for the emerald.  India advised me to keep it simple and allow the emerald to sing out, it certainly does that, I LOVE it!"
Bracelet
Watermelon Tourmaline
"It's always a pleasure to visit India's shop, it is a wonderfully warm, informal and friendly space.  I have bought several bespoke and ready to wear pieces from India, and I wear them all the time and I always get lots of compliments."
Earrings
Precious Persian Turquoise
"It's a pleasure to work with India, I trust her approach and sources, and I am confident she will always find just the right ethical stone to start the design process.  She worked a small strand of Persian turquoise into a bracelet and earrings cleverly adding some hand made gold beads and clasp which complimented the turquoise perfectly.  I love the fact that her jewellery has colour and integrity and uses Fairtrade gold.  I have a very busy schedule and I never feel pressured to make quick decisions, she works to my schedule."
Necklace
Labradorite framed in 18k Yellow Gold
"Commissioned for his wife's birthday and hung on her favourite gold chain, this captivating labradorite triangle is a stunning blue and gold, framed in 18k Fairtrade gold. This piece of labradorite originated from Canada's Labrador Coast, the more vivid the blue, the finer the quality of stone. It was difficult to give this piece up." - India Mahon.

Earrings
Watermelon Tourmaline
"I adore India's designs, I spent many happy hours in India's shop and was very sad to see her disappear up north. I have commissioned India to make three or four pieces for me as well as buying lots of beautiful pieces from her shop. I always get lots of compliments when I wear India's jewellery."
Necklace
Chrysporase
"India's delicacy of design, eye for special detail, & unusual stones, sets her jewellery apart. It has an elegance which appeals to every age group."
Ring
Hera Ring (Greek Style)
"I wanted a very special ring creating that I could wear every day, using the gold and diamond jewellery left to me by my father.  India chose these ten tiny marquise and oval diamonds from over forty native South African diamonds she salvaged from my heirloom jewellery. I adore the ring she created I wear it every day. I enjoyed working with India, she listened and interpreted my dream perfectly. Our time together was a mix of fun and chatter and the business of creating a piece of jewellery I can enjoy and pass onto my own daughter."
Ring
Fairtrade Gold & Labradorite
"I love India Mahon jewellery for its exquisite style and timeless simplicity and all this with truly ethical values. Her bespoke service was a perfectly tailored experience that really captured my perfect piece. Just beautiful."
Tiara
18th Century Diamond Tiara
"This was a stunning tiara brought in by a very special client. It had spent many years in its original leather box and my brief was to repair the tiara in time for her nephew's wedding. This family heirloom was 18k yellow gold with a top layer of silver that was typical of the style of the day. I hunted down and replaced the missing old cut diamonds, cleaned and polished the tiara and made a new headband style setting. This really was a labour of love. The bride came into the shop to be shown how to fit and wear the tiara. I later heard that the tiara and the wedding were a great success." - India Mahon.

Ring
Marquise Diamond
"India remodelled an inherited diamond, sapphire and platinum Art Deco brooch into a contemporary everyday wearable ring. Her design is simple, unfussy, and accentuates the curves of the 2ct marquise diamond. I love it. India was a pleasure to work with. Always patient, she answered my questions in an easy to understand and friendly professional manner. I felt complete confidence in India's knowledge and guidance, she has an amazing attention to detail. I liked and trusted her design signature and she progressed the design and production of the ring at a pace that suited me. What an incredible journey, I am delighted with the result and wear it all the time."
Necklace
Aquamarine
"India made a necklace to celebrate my 10th wedding anniversary. She took her inspiration from my aquamarine and diamond engagement ring. I really enjoyed the experience. She expertly guided me through a fantastic selection of aquamarine faceted pear drops and brilliant cut diamonds of various grades and colours. She made various lengths of different styles of chain to ensure we got the perfect neckline. I instantly loved the result, a classic deep blue aquamarine faceted pear drop with a cluster of brilliant cut diamonds set very simply in white gold on a fine chain."
Necklace
Sapphire and Diamond
"I find India Mahon's jewellery both beautiful and utterly covetable. Everything she makes, is wonderful, whether she is using silk, gold or silver, crystals, gemstones or more serious jewels. I have bought affordable gifts for friends, special gifts and treats for myself, all of which have been unique and lovely. The highlight of my (rather major) recent birthday was a wonderful bespoke necklace from my husband which we commissioned from India. My husband and I visited her a few times to discuss it. Each visit was a pleasure as India is fun, warm and a true artist. She happily talked through my vague ideas about a long necklace.  Her enthusiasm for the design was amazing. She suggested unusual stones and revised the design several times, making gentle suggestions. The piece she made is indescribably beautiful and I adore it."